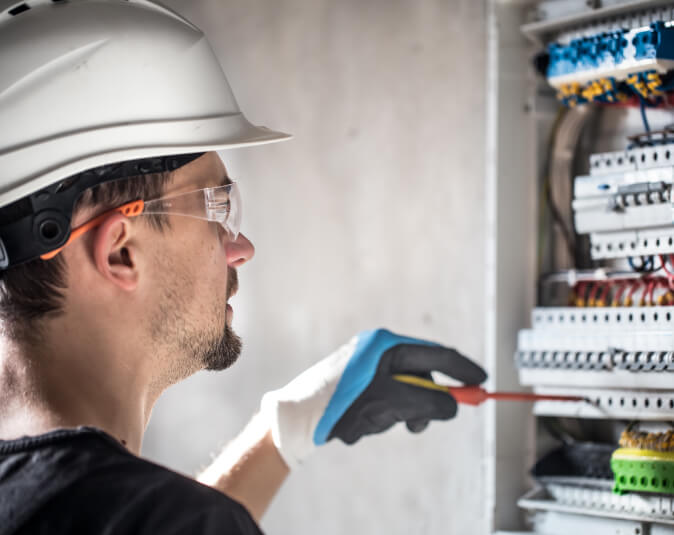 We strive to provide the best commercial electrical contracting service in the city.
Small projects, large projects, or new commercial construction —we handle it all. After we complete the work, on-time and on-budget, we provide a one-year warranty for all commercial electrical services. That's how committed we are to doing the job right.
New Commercial Buildings
It all starts in the ground, and our team is there to rough it in.
Our commercial electricians provide temporary power for any commercial site requirements. While our commercial electricians perform the work, our project management works diligently with construction management to make sure all changes are documented and executed.
Our project management works closely with the fire department, utilities, authorities and foremen on site to make sure the commercial construction runs smoothly. In addition, our experienced commercial electricians and foremen organize a clean work environment for all employees. They manage manpower and materials to make sure the job is completed on time.
Call us today to start an estimate for your new commercial building.
Commercial Tenant Improvements
Tenant spaces are constantly changing. We can examine your building, determine its electrical needs, and provide you with a detailed service quote.
Our commercial electricians have extensive knowledge in commercial electrical demolition and re-installations. We work with Kelowna's utilities, services, and authorities to make sure your project goes as smoothly as possible, without delay.
Our experienced commercial electricians in Kelowna make sure the work is done safely and on time. Contact us today to start an estimate for your tenant improvements.
Audio / Video Install
Do you have a business that requires background music? We supply and install systems to stream custom music lists or interface with streaming apps. We work with our clients to make sure they are getting quality sound and music exactly where they want it.
In addition, we install TV and projector systems to play corporate videos, facilitate remote meetings, and support presentations. Contact us today for a complimentary estimate on installing your commercial audio/visual equipment.
Our trained technicians can also connect corporate data networks. Learn more about our data network services.
Smart Systems
Smart offices are the way of the future. Our Google Nest and Lutron certified technicians can help plan, design, and install smart systems for your commercial property. Smart lighting and heating can save you money, while voice-activated systems are convenient and efficient.
With a smart office design, you can adjust the temperature quickly and easily in response to outdoor conditions. Smart window shades make the office comfortable and attractive. Smart security systems can protect your building and your workers. Finally, smart communications systems can lead to improved collaboration and productivity.
Contact us today to discuss your smart office needs and to schedule your free consultation. You can also Learn more about our smart systems.
Electrical Tender Estimates
We provide electrical tender quotes for commercial electrical contracts of all sizes and complexity.
Our project management team delivers electrical estimates with detailed line items, so there's never any surprises. Once work begins, our skilled technicians process electrical change orders quickly and communicate with construction management to keep projects on the move.
We utilize the latest in commercial construction software to collaborate live changes and minimize down time, staying organized so projects run smoothly.
Contact us today to start an electrical tender estimate.
Commercial Electrical Maintenance
As experienced electricians delivering top-quality work, we are often called again to add new commercial electrical items and provide maintenance. Commercial electrical maintenance services we provide include:
Fire Alarms
Emergency Lighting
Lighting Control
Motor Control
Lighting Retrofits
Audio/Video
Voice
Audible PA
Commercial Smart Systems
Lighting Repair
For other maintenance issues, we're happy to provide a detailed estimate. Contact us today to schedule your maintenance work.
Gallery
Custom Electrical Residential Kitchen
Gallery
Custom Electrical Living Room
Gallery
Custom Residential Electrical Kitchen
Gallery
Custom Electrical Residential Kitchen
Gallery
Electrical Contractor
Gallery
Commercial Electrical Contractor
Gallery
Commercial Electrical Company
Gallery
Custom Electrical
Gallery
Custom Electrical
Gallery
Custom Electrical
Gallery
Custom Electrical
Gallery
Custom Electrical Residential