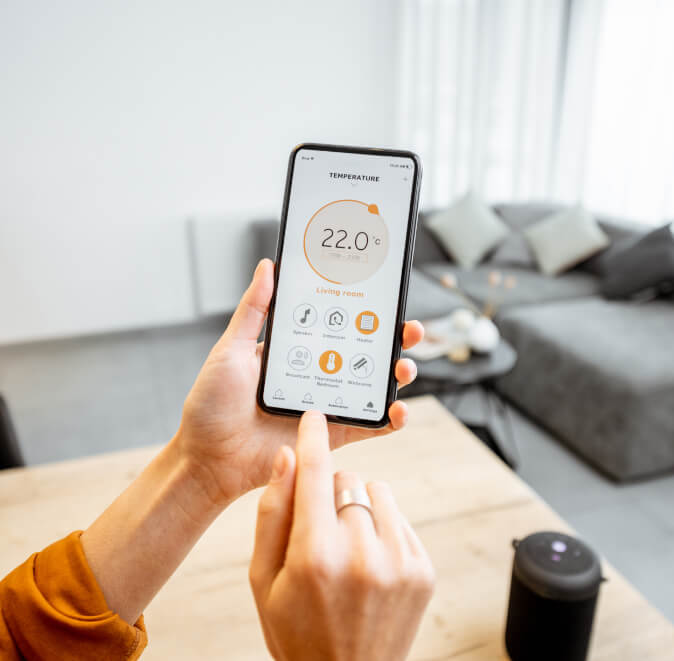 Smart homes are easy to use, but can be complex to install.
Our technicians are certified on major smart systems, including Google Nest Home and Lutron Pro Residential. We have years of experience in installing smart systems, and we keep ourselves educated on the latest technology. Get an up-to-date system that suits your lifestyle and will last for years.
We design, plan, and install luxury smart home automation in Kelowna, West Kelowna, and the South Okanagan. Contact us today for a free estimate.

Book Now Call Us
Planning Your Perfect Smart Home
When it comes to planning a smart home, the options can seem endless. We narrow down the options to suit your requests, requirements, and budget. Whether the installation is in an existing home or a new building, we provide the proper products and wiring to assure you achieve the smart home of your dreams.
To plan your perfect smart home, we:
Meet with you to discuss your needs, wants, and budget
Make recommendations on products and services
Create a detailed estimate so there are no surprises
Coordinate with contractors and builders
Do the job right with experienced, certified technicians
Integrate all aspects of your smart home, from lighting to security
Provide upgrades and servicing as needed
We create complete smart home plans, including lighting, security , and entertainment. Contact us today for a complimentary consultation, and get started planning your dream smart home.
Start Planning Your Home
Plan your smart home features prior to meeting with our staff. We'll use your list to create a detailed estimate with line items. You'll know exactly what the costs will be before we start.
When planning your smart home, consider the following:
What products do you think you want? Common smart home products include interior lights, exterior lights, window blinds, home security, locks, entertainment systems, and irrigation.
How do you expect to interact with your smart home? Would you prefer using a smartphone app, tablet, or voice activation?
What custom "must haves" do you want? List lighting schemes, timer schedules, or additions you're sure you want.
What would be "nice to have"? Do a web search for "new smart home features" and make a list of what appeals to you.
What aren't you sure about? Make a list of questions to ask our smart home installer so that you won't forget anything. We're happy to discuss smart home products and make recommendations.
Schedule a consultation with our certified smart home technicians.
Planning your smart home doesn't have to be overwhelming. We have the experience and knowledge to help you make the right decisions to support your vision and your lifestyle. Contact us today for a free smart home consultation.