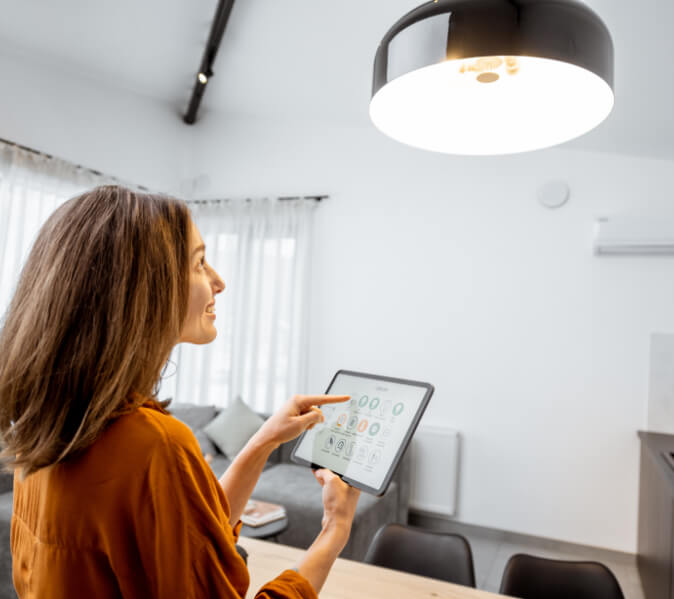 Energy costs are one of the highest expenses for your home.
With smart lighting, your home becomes more efficient and saves you money. Plus, custom smart lighting allows you to create the perfect atmosphere within your home, whether you're working, entertaining, or relaxing.
Contact us today for a free consultation on installing custom smart lighting for your home. We do it right the first time, giving you a home that's comfortable, convenient, and energy efficient.
What does Smart Lighting mean?
Smart lighting means more than turning lights off when not in use. With a comprehensive smart lighting installation, you control your home's fixtures and lighting levels with either the remote or with an app from your tablet or smartphone.
With smart lighting, you control:
Indoor and outdoor lights
Light intensity (dimming or ramping)
Preprogrammed lighting "scenes"
Timers to randomize lights when you're away
7-day regular lighting schedules
Ceiling fan speed, direction & lighting
Motion sensors and light sensors
Turn on/off all lights with a command
Through the app, you can also see at a glance what lights are on inside your home. Contact us  today to plan and install smart lighting.
What is a lighting scene?
With lighting scenes, you can preprogram a number of different lighting elements to activate with a single command. Lighting scenes can be used for bedtime routines, entertaining, and just about anything else you can think of. Our technicians can help you plan and program lighting scenes for your home.
For example, you can program a lighting scene for watching movies at home. When you activate movie time, your smart lighting system:
Slowly fades overhead lights
Turns off bar lights and hallway lights
Dims wall sconces to 25%
The possibilities are endless with our experienced lighting technicians. Contact us today to design your lighting scenes.
How does smart lighting save money?
Smart lighting can help lower your power bill. With motion sensors, lights turn on when they detect movement and turn off when you leave the room. In addition, through the app you can see at a glance what lights are on. You won't have to worry about leaving lights burning in empty rooms.
You can also use lighting scenes to efficiently control outdoor and indoor lighting. By only using the amount of light you need, and automatically shutting down lights on a timer, you never have to think about whether you're wasting electricity.
Create efficient systems that save you money. Contact us today for a free smart lighting consultation.
Can smart lighting make my home safer?
Yes, your home can be safer and more secure with smart lighting! From properly illuminating your walkways and entrances, to light scenes that activate during a burglary, there are many ways to use smart security lighting.
Learn more about smart home security.