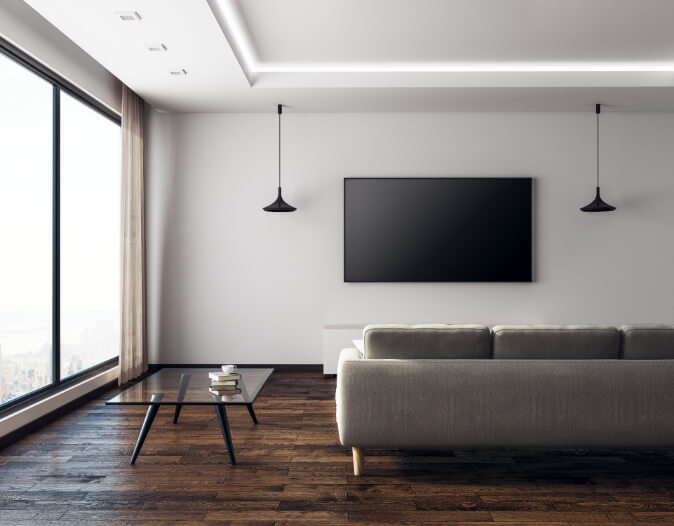 Entertainment rooms are a popular design choice for new home construction and renovations.
When creating your custom home theatre, smart audio and video can take your room to the next level. Smart audio/video installations can also make your home more convenient, efficient, and modern.
Contact us today for a free estimate on installing smart audio/video technology for your home or business.
Smart TVs
Our certified technicians install your system quickly and properly, doing it right the first time. With a Smart TV such as Google Chromecast, Samsung QLED, or LG C9, you can stream video straight to your TV.
A Smart TV allows you to:
Stream entertainment directly onto your TV
Display video in HD or Ultra HD
Watch programs with minimal buffering
Control streaming through your smartphone or tablet
Control the TV from anywhere in your home
Watch Netflix and YouTube on your home TV
Every Smart TV has its own benefits and features. We guide you to the proper purchase to suit your lifestyle. We can provide different options to supply your new TV and also install your wall mount. You'll want a mount that's secure and positioned at the proper viewing height. Finally, we can configure your Smart TV and train you on using all its many options.
Contact us today for a free Smart TV estimate.
Universal Remote Controls
A Universal Remote Control (URC) coordinates all your electronics with one device. The URC brings together both smart and conventional devices through IR (infrared) or RF (radio frequency). This is the perfect tool for commercial and residential applications, as it simplifies everything in the build on to one app. 
Whether you're a homeowner uniting all your devices, a manager simplifying your restaurant system, or a building manager looking for off-site control, a URC is the ultimate tool.
Benefits of URC
Control all your devices with one app
Schedule notifications and power management for all types of devices
Integrate incompatible apps or products with each other
Send push notifications to your phone from all devices
Add conditional logic between different manufactured products and protocols
Turn RS-232, IP, RF and IR devices into smart devices
Control heat, lights, security, shades, door locks, audio, video, pools, and intercom
Pfitztech is a certified supplier, designer, installer and commissioner of all URC Total Control systems. Contact us today to set up your URC, or learn more about URCs.
Smart Speakers
Smart speakers produce the highest quality sound through efficient, responsive design. Control the volume with voice commands or through your smartphone or tablet. Our experienced technicians can install your Google Home Max, Amazon Echo, or other smart speaker system to your specifications.
With Smart integration, your sound system can stream music from streaming services, such as YouTube Music, Spotify, or Pandora. You can also play music from your iTunes account or linked peripherals, such as a turntable. Get your favourite tunes when you want them, from anywhere in your house.
Contact us today for a free smart speakers consultation.
Custom Home Theatres
Our experienced technicians integrate smart audio/video technology to create your ultimate entertainment room. Control the lighting and volume in your media room with voice commands. Smart speakers automatically adjust their volume and balance to suit the acoustics in your room.
We can help plan, design, and install your ideal home theatre. Learn more about custom media rooms.