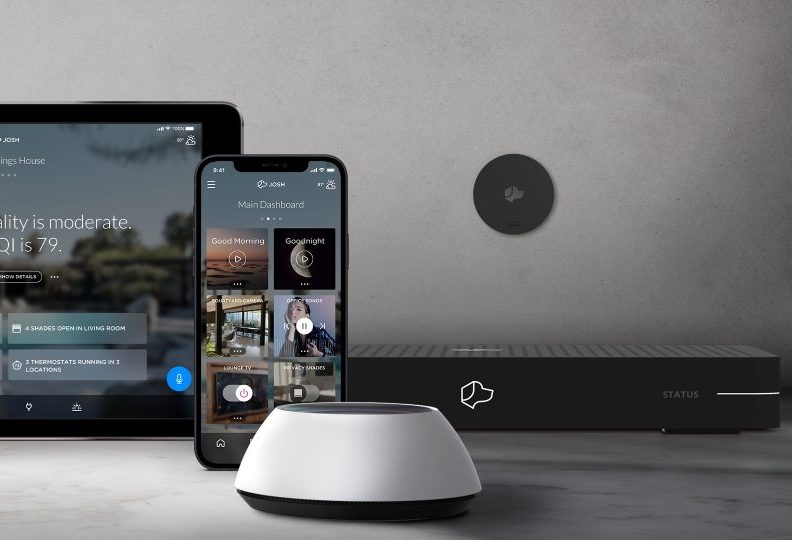 Elevate your smart home with the latest artificial intelligence technology. Meet Josh.
For an enhanced smart home experience, luxury homeowners are turning to Josh. Josh uses advanced AI innovation combined with natural, intuitive interfaces such as touch points and voice recognition. Orchestrate your home into a place of ease and excitement with this revolutionary new smart home system.
Contact us today for a free consultation on what Josh.ai can do for you and your home.
Josh AI Features
Control a number of features with simple voice commands. Josh uses a proprietary Natural Language Processing system to make voice control even easier. The system understands informal speech, allowing you to issue casual commands as if you were speaking to a family member or friend. Josh even knows where you are, so you don't need to specify what room to affect unless you want to.
With Josh.ai voice control, you can:
Speak in a natural, informal manner
Control smart shades and lighting
Control sensors such as air quality
Ask Josh to play music or videos
Schedule commands for later
Issue multiple commands at once
Ask for information, such as the weather
Contact us to discuss the possibilities Josh can bring to your home.
Josh AI Integrations
Numerous integrations with leading smart home technologies is one reason Josh.ai is the premiere choice for luxury home owners. You can easily control popular brands of smart lighting, home security, audio and visual systems, and more with Josh. Don't see the system you're looking for? Give us a call and we'll help you determine if your home system works with Josh.
Josh is compatible with many systems, including:
Lutron lighting and shades
Crestron home lighting
Sonos sound systems
Control4 lighting and shades
Music streaming including Spotify
Doorbird door stations
LG, Sony, and Samsung TVs
Video streaming including Netflix
Integrate your smart home with the cutting-edge technology of Josh.ai. Contact us to get started.
Josh AI Products
Josh provides a number of distinct products to support your smart home with the perfect amount of nodes. With a long range and customizable placement, you can cover your home with a minimum of hardware. We recommend and install Josh products to give you the perfect smart home experience. Call our team today to schedule a consultation or installation of the following products.
Josh Core
The central brain of the Josh system, Josh Core communicates with other nodes to give you complete control of your smart home.
Josh Micro
These devices fit in the palm of your hand but contain powerful microphones that hear you from any corner of the room. Josh Micro comes in black or white and has wall-mount options.
Josh Nano
These powerful in-room microphones have an incredibly slim profile, allowing them to blend in seamlessly with your decor.
The Josh App
Control your home from anywhere with the Josh App. The app can also be configured to interface with multiple properties.
Take control of your home with Josh.ai. Contact Pfitztech's team of experts for a free consultation on installing this incredible new technology.