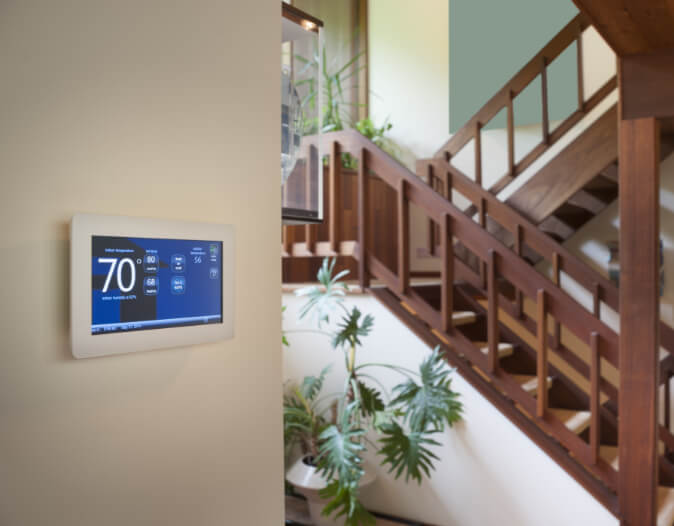 Smart home security brings increased safety and peace of mind for you and your family.
From smart locks that keep out threats, to smoke detectors that alert you to danger inside, smart security covers every aspect of your home. Go beyond alarm systems with a complete smart security system to protect what you love most.
Smart Home Locks
Smart locks make for easy, secure access for you and your guests. Never wonder if you left the door unlocked or worry about losing your keys with modern smart locks. Our experienced technicians can install all popular smart lock models, including Nest and Yale.
Smart locks come with a variety of features.
Lock and unlock your door from anywhere
Create codes for family, friends, or tenants
Set codes to expire after a specific time
Get alerts when your door is locked or unlocked
Lock doors automatically when you leave home
We can help you select the proper smart lock for your home or business, then install it and train you on its use. Call us today today for a free smart lock estimate.
Smart Cameras
Protect your home and grounds with smart security cameras. A complete smart camera system provides remote monitoring and cloud recording so you don't miss anything. Images of vandals and trespassers are securely stored on your cloud account.
We design and install custom smart camera coverage, which can include:
4k resolution
Facial recognition
Human recognition
Smartphone app control
Remote monitoring
Contact us today for a free smart camera system consultation.
Additional Smart Security
The smart security market grows every year, and new products are always being released. Our licensed, experienced technicians keep informed on the latest products so you've got the most modern system available.
We offer consultation and installation of the following products:
Smoke and CO Detectors
Smart detectors communicate with your smartphone to keep your home safe. We can program your smoke or carbon monoxide detectors to perform monthly automatic tests. Some smoke detector systems offer voice alerts before the alarm sounds, so you can prevent burned toast from setting off the system.
Geo-Fencing
Set an invisible fence around your property. Once you leave the home it will turn off certain lights, lock doors, and turn off designated appliances. We can recommend lights and peripherals that will integrate properly with your geo-fencing.
Security Alerts
Design a security response for when your home is breached. Your smart home will flash exterior lights, turn on all interior lights, and open the blinds. Often a security alert is enough to frighten off would-be burglars and alert your neighbours.
A custom smart security system, installed by our top-notch and certified professionals, brings you peace of mind. Contact us today for a free security estimate.