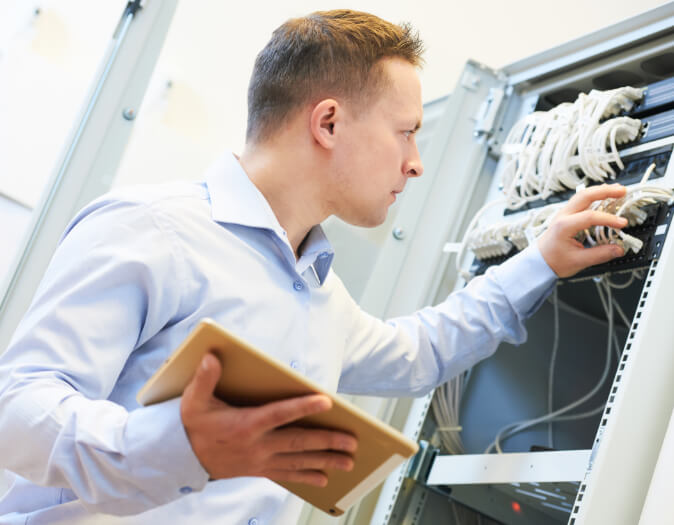 Our job is keeping you open for business.
While you focus on work, we install your data networks and keep them running smoothly. Your business is too important to trust to anyone—we provide only the most experienced and qualified technicians to do the job right. And we provide a detailed line estimate so there are no hidden costs and no surprises.
Professional Installations • Detailed Estimates • Guaranteed Work
Data & Communication Services
Learn more about our data network and communication services. Proudly serving Kelowna, West Kelowna, and the South Okanagan.
Commercial Office Networks
We design and install systems to network multiple computers in your office space. The Internet is capable of incredible speeds, and we determine the proper peripherals and cables to deliver that speed to you. We can install both wired and wireless networks, and recommend the ideal configurations for your work.
When the Internet is down, you can lose work, productivity, and money. Get a system you can trust to keep you in business. Contact us today to set up your commercial estimate.
Data Network Installation
You require reliability and speed from your network. We make it happen with our knowledgeable technicians. Whether your network is hardwired or wireless (WiFi), we have the experience to build the fastest networks for your business. Our services include:
Cabling (Cat3, Cat5e, Cat 6a, Cat6e)
Network switches
Patch panels
Repair and retrofits
Network testing
Wireless/WiFi access points
Voice over IP (VOIP)
We offer data network installation for new commercial construction and as a retrofit to existing office spaces. Contact us for a network estimate.
Fiber Optic Cable Installation
Many modern businesses look to fiber optic cable for reliable, high-bandwidth Internet. Fiber optic cabling requires longer installation times and experienced technicians. We have the experience and the knowledge to install or upgrade fiber optic solutions for your business.
Companies that consider fiber optic cable include:
Medium to large size
Heavy internet users
Rely on WiFi or the cloud
Have large servers
Need to minimize downtime
The best tech can suffer if your Internet speeds can't keep up. Give your business an advantage with fiber optic Internet. Contact us for a complimentary fiber optic estimate.
Switches & UPS
Once you have your system installed, customize it to suit your business and your work style. We perform a number of custom installs to make your network as efficient and usable as possible.
Install switches so multiple computers can use a single connection.
Install mounting hardware to customize your PC
Recommend power saving solutions
Set up UPS (uninterruptible power supply) or battery backups
Set up surge protectors
Keep your network running efficiently and reliably. Contact us for information or an estimate.
HDMI & Display Cables
HDMI cables bring high-definition, high-quality visuals to your peripherals. For companies that work extensively on screens, HDMI can be a requirement. HDMI cables can come in standard format, with ethernet, high-speed, or with UHD (ultra high definition).
Different monitors and peripherals come with different display cable requirements, such as VGA or DMI. After we evaluate your equipment, we recommend and install the proper cables to support your business. Contact us to schedule HDMI or display cable installation.