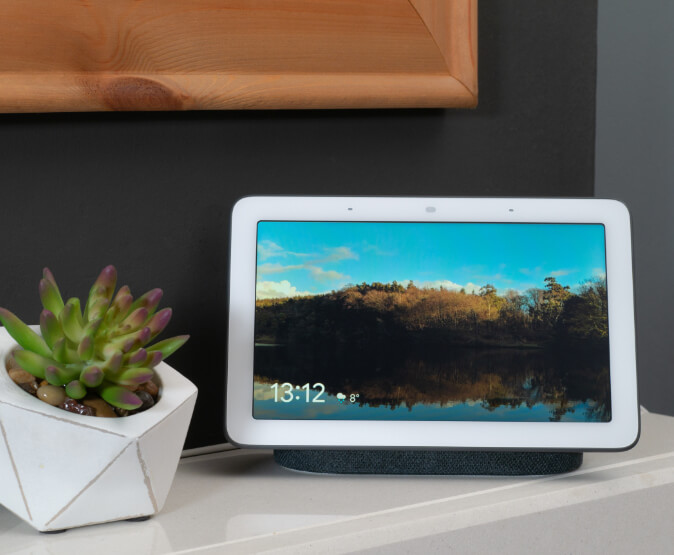 Google Nest is a cutting-edge complete Smart Home system.
Our certified Google Nest technicians can help you plan, design, and install the system, customized to meet your lifestyle and your needs. Whether you're looking for a single Nest Mini or a complete home system, we have the knowledge and expertise to help.
Contact us today for a free consultation on installing a custom Google Nest Home system.
Google Nest Home
Google Nest is a complete smart home system. You can control compatible appliances, lights, security systems, and more through your tablet. Voice activation and face recognition software means your smart home is securely linked to you, convenient to use, and endlessly customizable.
With a Google Nest system, you can:
Control lights and schedule timers
Make voice and video calls
Stream video and music
Call up recipes or Internet searches
Monitor cameras and security systems
Control linked appliances
The possibilities are yours to imagine. Contact us today to plan and install your Google Nest setup.
Google Nest Security
With Google Nest, you can control your security system through voice commands. Control door locks and alarm systems with a word—great for when you're carrying groceries inside. You can set the system to work with your lifestyle and feel secure any time of day or night.
Google Nest security allows you to:
See who's at the door
Lock and unlock doors
Watch security camera feed
Get voice alerts from your smoke alarm
Arm and disarm your alarm system
Your home should be the place you feel safest. Contact us today to set up your Google Nest security system.
Google Nest Entertainment
Relax and enjoy yourself with smart entertainment from Google Nest. Our technicians have the experience and ability to design your ultimate media room and integrate your Google Nest system.
With Google Nest, you can:
Stream music and video
Voice select playlists or shows
Adjust volume with your voice
Connect TVs and speakers
Kick back and relax while we do the work. Contact us today for a free Google Nest consultation.
Voice Control
Google Nest products can be voice controlled by:
Google Assistant
Amazon Alexa
Apple Home Kit (Siri)
Not only can you play music and Netflix from a voice command, but now you can control smart lighting, thermostats, fireplaces, pool, irrigation, gates, and vacuum cleaners.